EVENTS

emed and GlaxoSmithKline got together
A Rare get together on January 19th 2002 !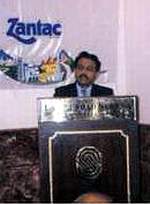 On January 19th 2002, Mr Salim Shahid (Regional Sales Manager) of gsk pharmaceuticals alongwith his team members arranged an auspicious get together in the honour of section heads of emed and other prominent physicians of the city at Serena Hotel Faisalabad.
The function was very well attended by the doctors among which prominent were, Associate Prof. Dr Tufail Mohammad and various consultant doctors as Dr Sajid Sheikh, Dr Hina Ayesha, Dr Zahid Nagra, Dr Amer Ali Chaudhry, Dr Sohail Jami, Dr Faiza Sohail Jami, Dr Babar Rafique, Dr Zahid Masood Khan, Dr Khurram Sohail Raja and numerous other prominent physicians of Faisalabad as Dr Asif Ghouri, Dr Ijaz Anwar, Dr Sameera Bazli and many others.
After his welcoming address and introductory statement on ZANTAC, Mr Salim Shahid handed over the stage to Dr Khurram Raja who with the help of multi-media displayed the emed web-site to all the audience explaining all the specialised sections, other regular features and aims and objectives of the first medical portal in Faisalabad.
Audience showed great interest in this new technology and termed the site as the need of the hour. The display followed by a very well arranged lunch. It was well organized and well sponsored function for which emed appreciates the efforts of Mr Salim Shahid who co-operates and collaborates well with the medical circles.
emed
PUNJAB MEDICAL COLLEGE FAISALABAD
CONVOCATION…………. A milestone in the life of a graduate!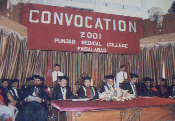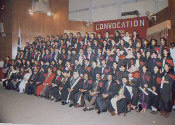 Convocation is a milestone in the life of a Medical graduate, who after the hard work of 5 years is granted the degree of M.B.B.S. Its a day when he takes the oath of serving the humanity and steps into the practical life.

Convocation 2000 of Punjab Medical College Faisalabad was held on 15.11.2001. Graduates of 3 years, 1997, 1998 and 1999 were granted degrees. Prof. ® Hayyat Zafar, President Pakistan Medical and Dental Council graced the occasion.

For the last 4 years this Institution has shown its strong presence both in the field of Academics and extra-curricular activities. Its notable here that one of its graduates scored highest marks in Final Prof. MBBS in 1999. Moreover, one of its graduates scored 99% in USMLE exam 2000 which clearly reflects the training of the graduate.

Graduates of PMC are successfully serving far and wide, inside and outside the country especially USA, UK, Canada, Australia and Mid-east countries. Principal, administration and organising committee of the convocation needs to be appreciated for this successful event. Upcoming events of PMC include colourful sports week, lively literary week and Health awareness programme.

*****************

If you want to place an event here, please contact the EMED team.
Click here