Dr Zahid Yasin Hashmi
(Back to Endocrinology)

Full Name Dr. Zahid Yasin Hashmi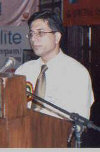 Qualifiction M.B.B.S, M.C.P.S, F.C.P.S.
Area of Specialization Endocrinology
Gender Male
Experience
Work Place Professor of Medicine, PMC Faisalabad.
Organization Punjab Medical CollegeFaisalabad
Address Ali Ward,Tariq Ward (Medical Unit IV) DHQ Hospital
Phone 9200144 Ext. Ali Ward
Fax
E-mail
Clinic Nawaz Medicare
Address University Road, Faisalabad
Phone 041-614881, 618881.
Fax
E-mail
Home
Address PMC Colony, Faisalabad
Phone 041-786022, (Mob) 03008651010.
Fax
E-mail
Preferred Contact Work, Mobile.